In a significant milestone for the electric vehicle (EV) charging industry in China, SINO ENERGY has achieved a groundbreaking feat by becoming the country's first EV charging company to receive complete Open Charge Point Protocol (OCPP) certification. This prestigious recognition not only reinforces SINO ENERGY's commitment to providing reliable EV charging solutions worldwide but also signifies a pivotal moment in the advancement of EV charging infrastructure in China.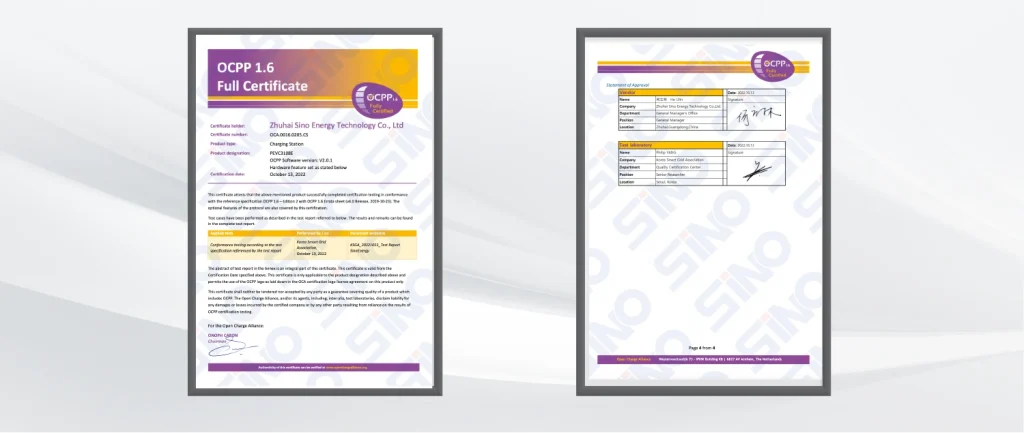 Unveiling the Significance of OCPP Certification
The Open Charge Point Protocol (OCPP) stands as a globally recognized communication standard for EV charging stations. Developed by the Open Charge Alliance (OCA), OCPP facilitates seamless interoperability between various charging station hardware and central management systems. By adhering to this vital protocol, charging station operators can remotely monitor, manage, and control charging points, creating an efficient and user-friendly experience for EV drivers.
SINO ENERGY's Landmark Achievement
SINO ENERGY's EV charger underwent rigorous testing and certification by OCA and was found to be fully compliant with the organization's OCPP and OSCP protocols, meeting all of the interoperability and performance requirements set forth by the OCA.
We are very pleased to have successfully obtained complete OCPP certification, we will continue to be committed to developing high-quality and reliable charging pile products, making greater contributions to the electric travel industry.
We are very pleased to have successfully obtained the complete OCPP certification, and we will continue to devote ourselves to developing high-quality and reliable charging station products to make greater contributions to the electric mobility industry.
Conclusion
SINO ENERGY's achievement as China's first EV charging company with complete OCPP certification marks a momentous occasion in the country's electric vehicle revolution. By adhering to international standards and embracing cutting-edge technology, SINO ENERGY demonstrates its commitment to providing high-quality charging solutions for a cleaner and more sustainable future.
Any other product certificate related questions?
If you have any specific questions about our product certificates, please contact us via info.sino@pmac.com.cn.
——————————————————————————————————-
About SINO ENERGY
SINO ENERGY is a trusted global manufacturer, who is dedicated to changing the way the world uses energy in the electric vehicle industry. We focus on EV Charger design, R&D, production, and marketing, enabling us to provide comprehensive electric car charging solutions for homes and businesses.
SINO ENERGY was established in 2006 and is a wholly-owned subsidiary of Zhuhai PILOT Technology Co., Ltd. It is recognized as a national high-tech enterprise, a provincial specialized and innovative enterprise, as well as a provincial innovative enterprise. SINO ENERGY's main core competency lies in research and development, with a focus on the production of electric car charging stations. We possess a complete set of proprietary technologies including whole EV charging solutions, metering modules, and monitoring management platforms. This enables the production of a full range of products, including AC chargers, DC chargers, and cluster EV charging stations. SINO ENERGY EV Charging stations and their supporting facilities are widely used in various locations such as residential buildings, commercial complexes, public transportation systems, municipal facilities, highway service areas, tourist attractions, and privately operated stations for social capital. SINO ENERGY supplies high-quality EV chargers and high-efficiency charging solutions for family and commercial use in more than 70 countries and regions. Our charging station products are well-received overseas and provide local users with safer, more stable, and smarter charging services.
Contact
WhatsApp: +86 189 2939 4523
Email: info.sino@pmac.com.cn
For Social inquiries, please contact:
Facebook: https://www.facebook.com/sinoevc
Instagram: https://www.instagram.com/sinoevc/
Linkedin: https://www.linkedin.com/company/sinoevse/
Youtube: https://www.youtube.com/@sinoevc
Twitter: https://twitter.com/sinoevc