On September 6, 2023, the celebration themed "Joining Hands, Winning the Future Together" was held at the SINO Smart Manufacturing Industrial Park in Zhuhai, Guangdong, marking the official relocation of Zhuhai Sino Energy Technology Co., Ltd (Hereinafter referred to as "SINO ENERGY"). With this significant step, SINO ENERGY embarks on a new era, akin to a mighty eagle soaring with the wind for thousands of miles!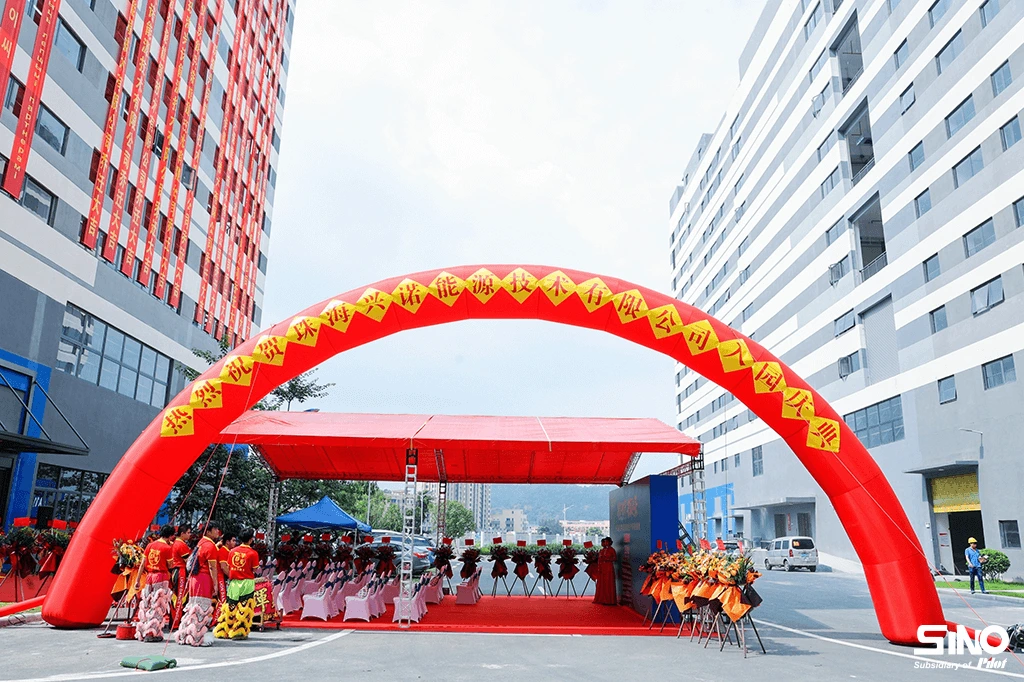 This celebration invited leaders from the high-tech zone, leaders from Huafa, and domestic and overseas customers who have provided strong support for the development of SINO ENERGY. Together, they visited and inspected the brand-new integrated automated production line at the SINO Smart Manufacturing Industrial Park. Years of dedicated research have enabled SINO ENERGY to possess a complete production line and production testing EV charging stations.
Simultaneously, through live streaming, SINO ENERGY's extended family from different cities came together, joining in the festivities to experience the joyous ambiance and collectively bear witness to this significant milestone in SINO ENERGY's history.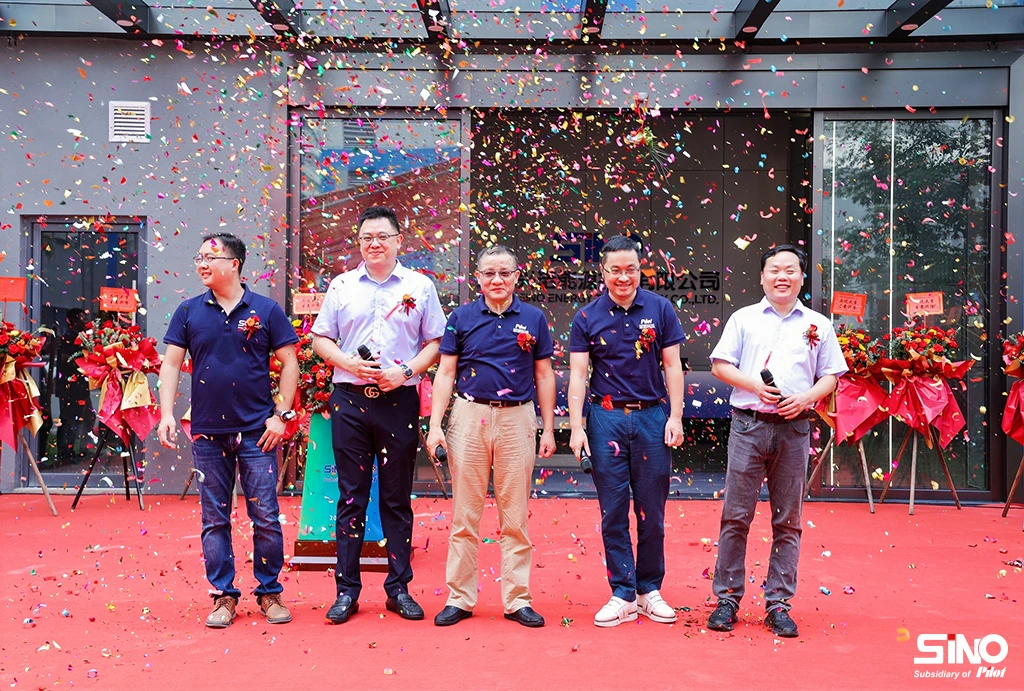 SINO ENERGY was established in 2006 and is a wholly-owned subsidiary of Zhuhai PILOT Technology Co., Ltd. It is recognized as a national high-tech enterprise, a provincial specialized and innovative enterprise, as well as a provincial innovative enterprise. SINO ENERGY's main core competency lies in research and development, with a focus on the production of electric car charging stations. We possess a complete set of proprietary technologies including whole EV charging solutions, metering modules, and monitoring management platforms. This enables the production of a full range of products, including AC chargers, DC chargers, and cluster EV charging station. SINO ENERGY EV Charging stations and their supporting facilities are widely used in various locations such as residential buildings, commercial complexes, public transportation systems, municipal facilities, highway service areas, tourist attractions, and privately operated stations for social capital. Our charging station products are well-received overseas and have been distributed in over 60 countries and regions, providing local users with safer, more stable, and smarter charging services.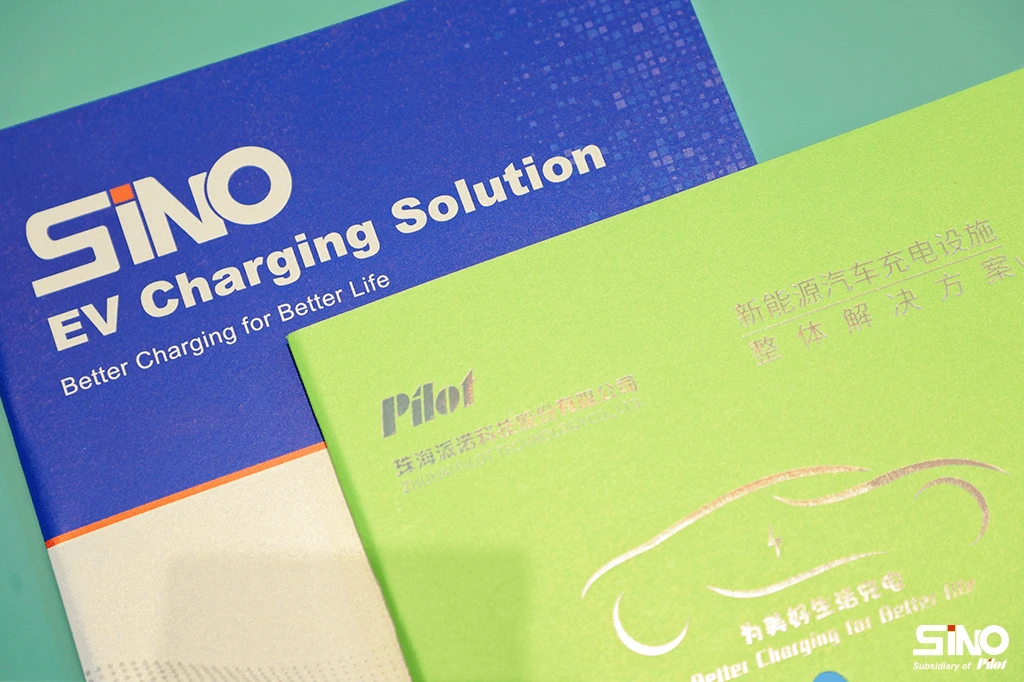 SINO ENERGY leader's speech
In the festive atmosphere, Mr. He, the CEO of SINO ENERGY, delivered a heartfelt address. He looked back on the journey of SINO ENERGY from its early days to the present, saying, "When I walked into SINO Smart Manufacturing Industrial Park, I saw a spacious, modern, intelligent, and high-tech environment. I felt delighted. The current SINO ENERGY steps into the new park with a fresh outlook and steadfast belief, providing us with broader development space and a higher quality service experience."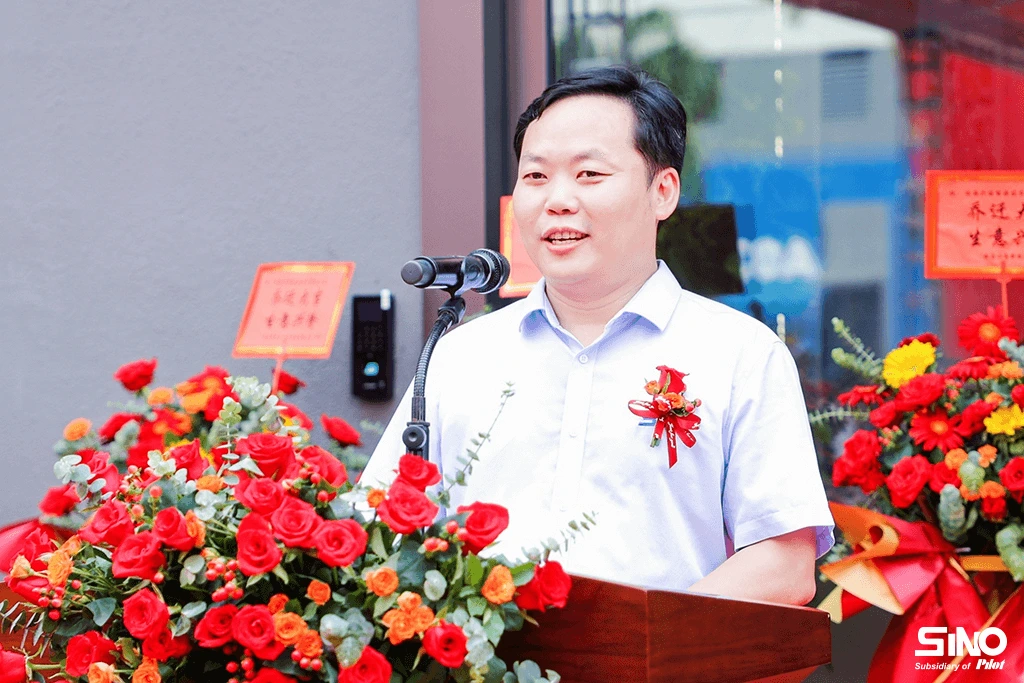 As the CEO of SINO ENERGY, Mr. He recounted the past achievements and expressed boundless anticipation for the future. Looking back, he thanked the society for its care and support, which contributed to the success of SINO ENERGY today. Looking ahead, SINO ENERGY will continue to advance, creating a brilliant tomorrow, and upholding the principle of high quality and value, providing reliable World-Class EV Charging Solutions for more enterprises.
"World-Class EV Charging Solutions You Can Trust" is not just our slogan, but also our commitment. We will approach our work with a rigorous attitude, placing the customer at the center, and wholeheartedly providing high-quality, valuable charging solutions, contributing to the electric mobility industry. Let's move forward hand in hand, witnessing the bright future of the electric vehicle industry together!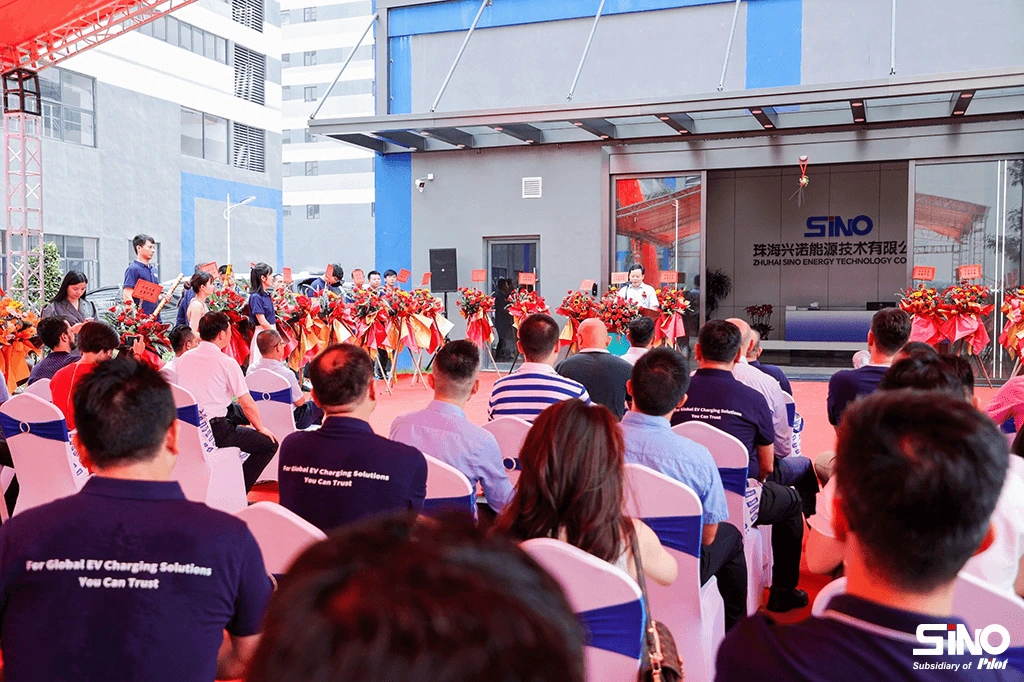 The wheels of history continue to turn, and the march of progress never halts. Now, standing at the new starting point of our company's development, Mr. Wang, Vice President , expressed in his subsequent speech, 'As long as we keep our company's mission in mind, I firmly believe that SINO ENERGY will embark on a new journey once again, just as Mr. He, our CEO, has stated. The current SINO ENERGY is brimming with vitality and modernity, and our future is boundless. I have confidence that the SINO ENERGY team and all our partners will work together towards a brighter future, a future full of mutual success.'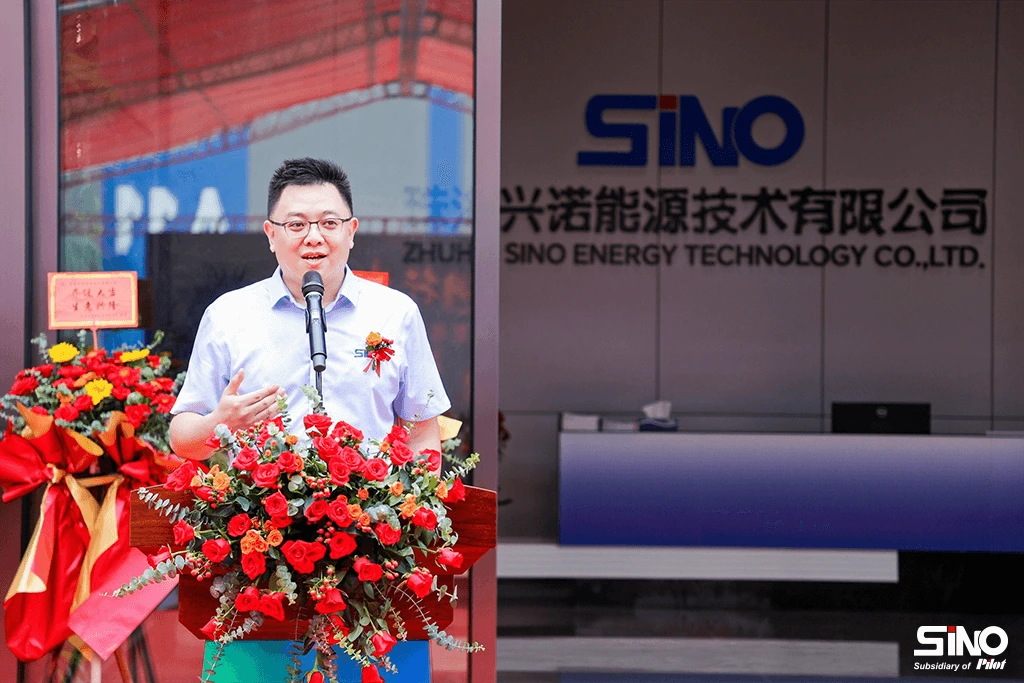 Congratulations from domestic and overseas guests
As the grand opening ceremony kicked off, distinguished domestic guests took to the stage one after another, expressing their heartfelt wishes for the company's continued success and offering warm congratulations on this significant milestone.
Representatives from overseas partners also took the stage, highlighting the company's global influence. This initiative signifies the official commencement of operations for the new EV charging station factory, with both domestic and international business partners eagerly anticipating future innovations and collaborations.
SINO ENERGY extends its deepest gratitude to all those present at this auspicious moment and looks forward to ongoing growth, innovation, and global impact in the future.
Lion dance performance. Vigorously Flourishing
In this spirited lion dance segment, our leader awakens the auspicious lion, radiating a commanding presence like a fierce beast. The auspicious lion gracefully dances, bringing a lively atmosphere to the grand hall, and filling it with festive cheer. It then makes its way into the offices, adding a unique touch of celebration to the workspaces. Finally, it visits the charging station workshop, injecting vitality and dynamism into this high-tech domain.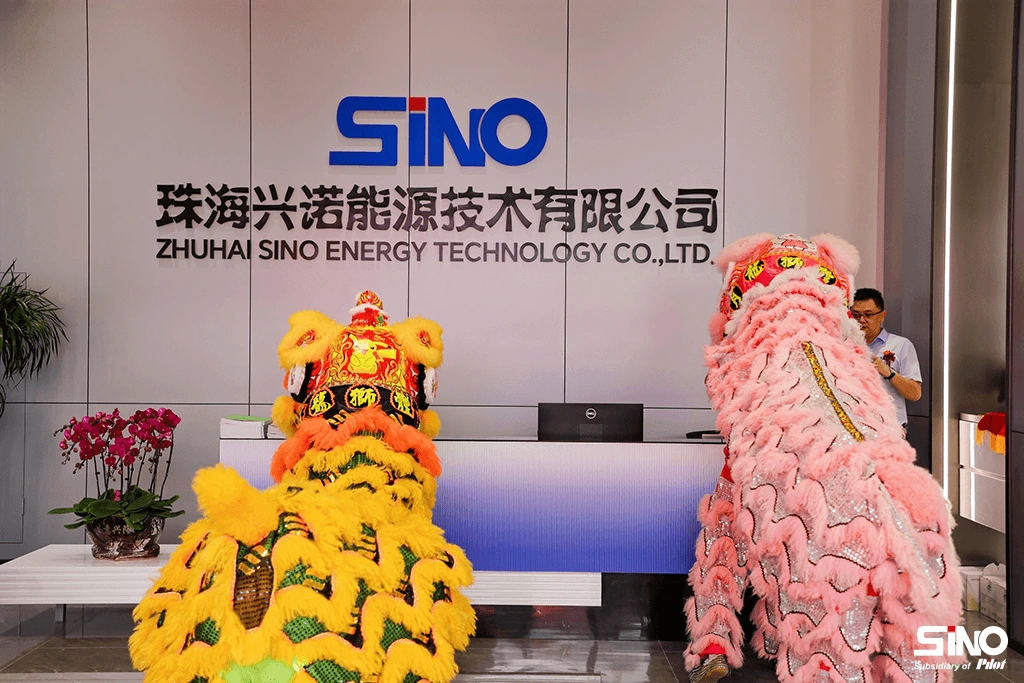 This performance is not just a spectacle, but a symbol of unity, perseverance, and the vibrant entrepreneurial spirit. In this fervent dance, we collectively envision the company soaring to new heights, thriving and flourishing. Let us join hands to create an even brighter tomorrow!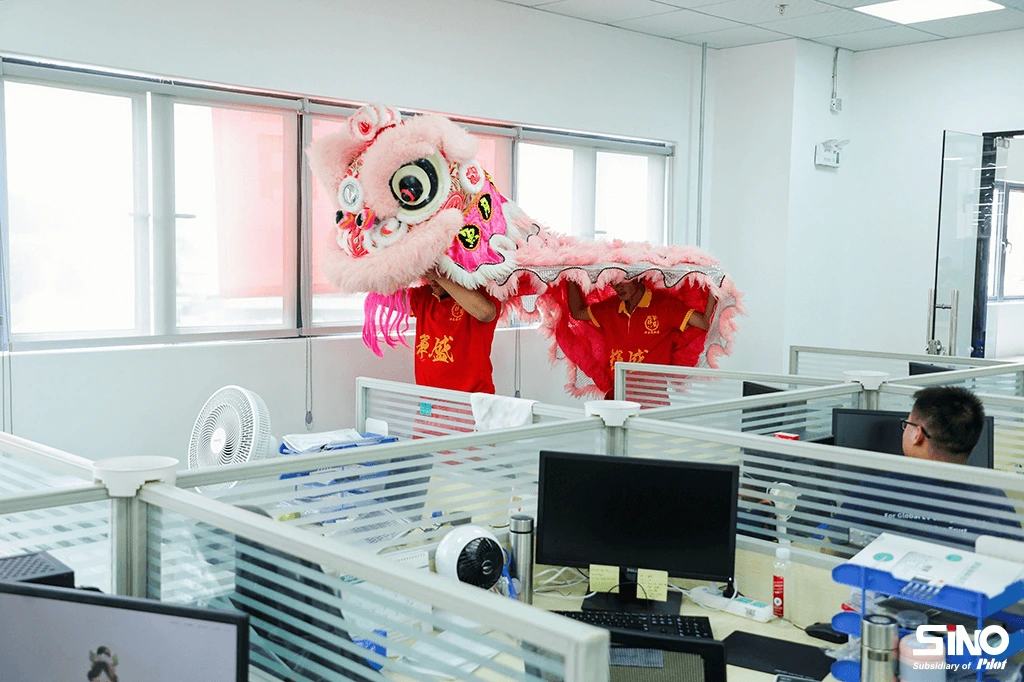 Joyful Move, Buildings Shine Bright
SINO Smart Manufacturing Industrial Park is a brand-new, modern industrial base for SINO ENERGY's new energy product line. Located in the picturesque and education-rich city of Zhuhai, the SINO Smart Manufacturing Industrial Park spans six floors and integrates research and development, production, and marketing.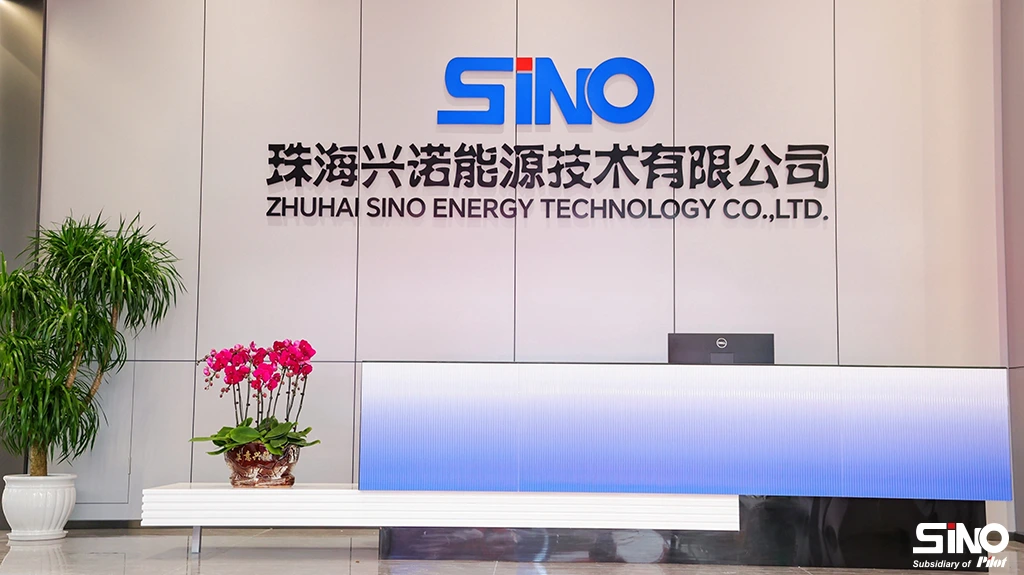 This industrial park employs the latest design concepts and construction techniques to ensure a high-quality and safe working environment. Its spacious and well-lit layout, along with adjustable lighting systems, provides employees with a comfortable workspace, thereby enhancing productivity.
Built on a foundation of technology, SINO Smart Manufacturing Industrial Park establishes an intelligent factory focused on "smart" and "wisdom". This is aimed at meeting diverse customer production needs, whether it be for mass production or customized production. Quick response times and timely deliveries are assured. Additionally, the strategic geographical location of SINO Smart Manufacturing Industrial Park, along with a convenient transportation network and an information-driven logistics management system, allows our products to be swiftly delivered to customer sites.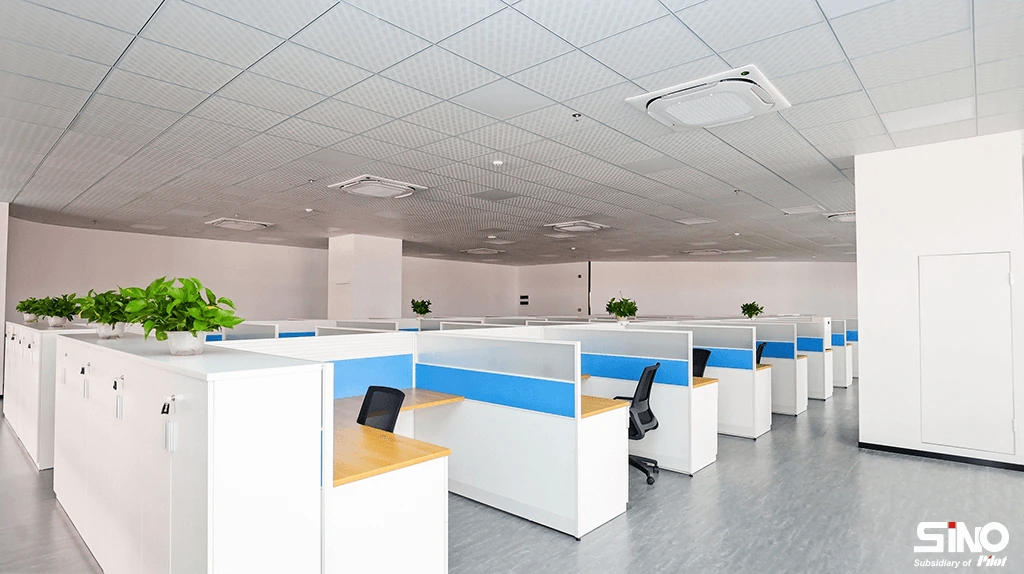 Flavors of Celebration
Amidst the grandeur of our new factory, a symphony of flavors awaits. Delight in an exquisite selection of gourmet treats curated especially for this momentous occasion. From delicate pastries to savory delights, each bite is a celebration of our journey to this splendid new chapter. Sip, savor, and relish in the harmonious blend of flavors, just as our team blends seamlessly in this vibrant new space. Welcome to a future filled with taste and triumph!
Capturing Unity and Triumph
Under the azure sky, amidst the gleaming facades, we stand united, a testament to our shared journey. The shutter clicks, capturing this moment of triumph, as we mark our new beginnings together. Smiles, laughter, and a sense of unity fill the air, echoing the promise of even brighter days ahead. This photograph, a living testament to our collective spirit, shall find its place in the annals of our company's history. Here's to the future, and to the indomitable team that shapes it!
We look forward to collaborating with you and providing you with world-class EV charging solutions and reliable services. SINO ENERGY, together with you, will work hand in hand to contribute to the development of the new energy industry, leveraging the strength of the SINO ENERGY EV charging station product family.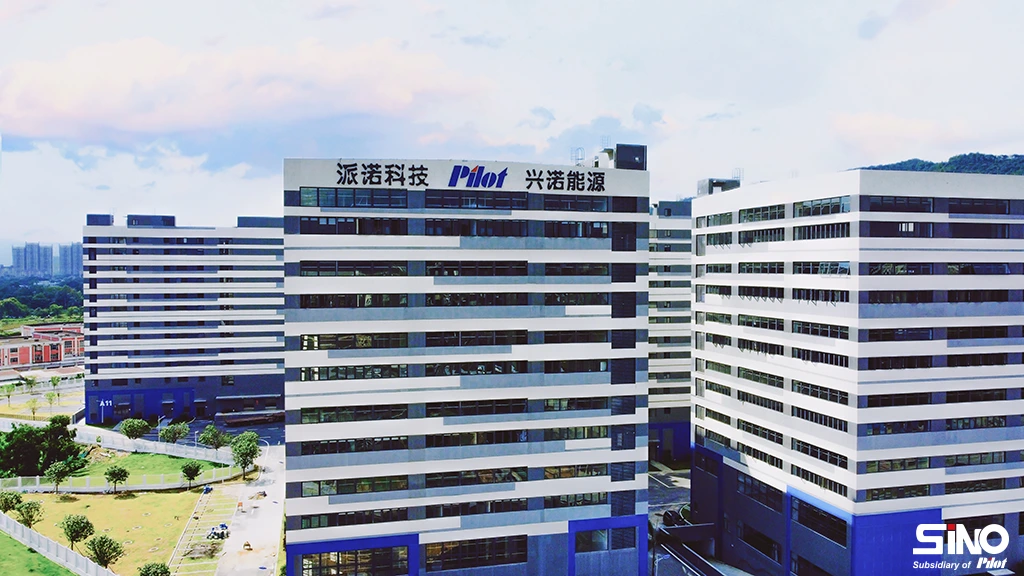 If you would like to learn more about our products, please don't hesitate to reach out to us via email at info.sino@pmac.com.cn. We look forward to hearing from you!
For Social inquiries, please contact:
Facebook: https://www.facebook.com/sinoevc
Instagram: https://www.instagram.com/sinoevc/
Linkedin: https://www.linkedin.com/company/sinoevse/
Youtube: https://www.youtube.com/@sinoevc
Twitter: https://twitter.com/sinoevc